AOS-1M medical ozone generator water ozonator therapy machine, bacteria, cancer, colonic irrigation, fungal, parasites, viral infection. Using ozone, colonic irrigation therapy, detoxify, wounds, sterilize instruments, used during surgery drastically cut down patient infections.
Latest statistics show bacterial hospital infection, fourth leading mortality cause. Between seventy five and 100 thousand people die yearly from hospital infections with 2.1 million patients contracting bacteria infections each year in the USA.
Medical ozone therapy is not some new technology. These applications have been in use around the world by alternative health care professionals and in veterinary clinics for over fifty years. Its been proven to work by doctor and veterinary clinic for bacteria and viral infections, cancer, pain and most all degenerative disease with the lowest side effects in existence.
When the human immune system is at its peak with proper oxygen levels it can prevent many disease and other health problems. Ozone therapy can revitalize the practice of medicine with alternative cancer therapies that work because of its antibacterial, anti-fungal, anti-inflammatory, anti-parasitic, anti-tumor and antiviral.
Medical ozone and oxygen therapy is one of the most powerful and versatile therapies known today. Research shows it throughout the twentieth century, mostly in Europe and other parts of the world. The action of ozone has beneficial effects on every part and organ. Some of the effects are bacterial, Mycoplasma disease, fungal and viral inactivation, circulatory enhancement, disruption of malignant cancer and tumor metabolism, and stimulation of oxygen metabolism.
Oxygen plays the most vital role for an optimum immune system and maintaining health. Oxygen, along with food, is the primary nutrient that cells use to generate energy for all its functions. With oxygen, the energy production is through oxidation of the unhealthy cells.
Oxygen regulates all activities of our bodies. Our ability to think, feel, and act comes from the energy created by the oxygen. Approximately 90 percent of the our energy originates from oxygen. The oxygen we breath is our most vital element for good health.
Medical ozone therapy is harmless when used properly and has virtually no side effects. It is one of the most effective ways of restoring optimal levels of oxygen. Its actions have beneficial effects on every part that will stimulate the bodies immune system.
Medical ozone therapy has many applications within the medical and veterinary clinics where bacterial and viral cross contamination are problems that need to be addressed in many doctors offices and hospitals throughout the world. The spread of fungal or yeast infection, parasites, tuberculosis and other airborne infectious disease can be minimized when using your medical ozone generator.
The use of medical ozone generators is well documented for most all health conditions and various ailments such as Cancer, AIDS/HIV, Herpes, Hepatitis, Parasites, Staphylococcus and fungal infection. Oxidative therapy is routinely practiced in countries such as Germany and Switzerland. Since the legality of medical ozone generator's and their applications vary from country to country, check with your physician and your local legal authority before embarking on any alternative. Legality is not an issue in veterinary clinics for pets.
Everyone needs to become aware of alternative therapies regarding their health and to choose which they feel is best to fight disease. Without free choice we have nothing.
PORTABLE MEDICAL OZONE GENERATOR MACHINE PRODUCES OZONE, MOST APPLICATIONS.
Applied Ozone Systems is proud to announce the first affordable air water ozonator machine, the AOS-1MD Series. This will soon be one of the most popular water ozonators around the world for the Alternative Health, Chiropractic, Colonic Therapists, Dental, Medical Professionals and Veterinary Clinic.
AOS-1M is the most inexpensive medical ozone generator water ozonator machine with corona discharge technology on the market. It can be used to purify your colonic irrigation water to detoxify the colon of parasites or any other useful application. The AOS-1M is the low-cost alternative to the more expensive medical ozone generator or water ozonator machine and fantastic in all respects of aesthetics, quality, performance and simplicity. The newer version has the same cell and electrical components as the AOS-1MD with the similar blue control panel label. Power module is UL and CSA recognized.
AOS-1M series generators are simple to operate. The price is so low you can buy several and rent them out to your clients or patient. This helps them be more responsible and allows you to spend more time with those in greater need.
No more excuses of medical ozone generator's being expensive, the price is right and the time to help save lives is now. If you are not familiar with activated oxygen and colonic irrigation do some research because the day may come when it could save your life?
Simplicity At Its Finest.
AOS-1M Medical Ozone Generator Machine Features
Size: 9.5x6.5x5 inches.
Weight: 4 1/2 lbs.
Fused short circuit protection.
Output: 40 gamma at 1/2 liter/minute.
Voltage: 120 volts 50/60Hz only.
Light indicator shows power is ON.
Quartz glass dielectric tube and non-reactive materials guarantees the production of O3.
Comes complete with diffusion stone bubbler, silicone hose, check valve, variable control and adjustable oxygen flow regulator from 1/32 to 4 liter/min.
Variable control from 5 to 100 percent.
Warranty: Covers defects for one year from date of purchase, 3 years on power module.
AOS-1M and AOS-1MD Series Medical Ozone Generator Machine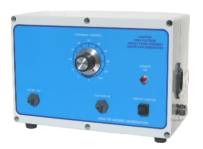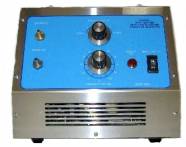 AOS-1MD medical ozone generator is built in the USA and superior in quality, performance, reliability, and workmanship to all others on the world market. The AOS-1MD has the same unique corona discharge dielectric reactor cell. The AOS-1MD uses ozone resistant fittings and Silicone tubing, which comes in contact with ozone. The AOS-1MD is ideal for any medical application that requires dependable and stable ozone production. Built to last for years without any maintenance.
Front control panel includes 5 to 100 percent variable control with six-position range selector switch that allows for hundreds of different output settings.
AOS-1MD is superior in quality, performance, reliability, and workmanship. This model will be the ultimate machine for the medical and veterinary professionals.
AOS-1MD Ozone Generator Machine
AOS-1MD Ozone Calibration Chart

AOS-1M Ozone Output Calibration Chart