Ozone Applications Information
Air Food Water Purification Applications
Business, Home Ozone Applications
Perishable Food Applications
Ozone Fresh Perishable Food Processing
Ozone Benefits Meat Fish Produce
Fresh Fruits Vegetables Ozone Applications
Ozone Book Information
Breath of Life Book Summary Information
Colon Cleansing Detoxification, Health Risks, Colonic Irrigation, Medical Ozone Therapy
Colon Cleanser Oxygen Supplement
Medical Ozone Oxygen References
Human Intestinal Parasites Worms
Ozone Generators, Colon Cleansing Equipment, Pool and Spa Ozone Generators, Air Purifiers, Oxygen Generators
Ozone Machines, Air, Food, Water Purification Systems
Corona Pool Spa Ozone Generators
AOS-1M Medical Ozone Generators
AOS-1MD Medical Ozone Generators
Other Home Business Products
Liquid Vitamin Mineral Dietary Supplement
Liquid Activated Stabilized Oxygen
Tropical Sunrise Dietary Supplement
Vitamin Mineral Natural Health Food
The AOS-1MD ozone generator machine is superior in quality, performance, reliability, and workmanship to all others on the market. Front control panel includes 5 to 100 percent variable control with six-position range selector switch that allows for over four hundred different output settings.
Both the brass oxygen inlet and stainless ozone outlet hose barb fittings will take 3/16 silicone tubing. Hose can be adapted easily to your Luer lock fittings.
AOS-1MD Ozone Generator Machine Features
Affordable, compact, portable and easy to operate.
Air Cooled.
Back flow prevention to help water from entering the dielectric cell.
Built for continuous, efficient and silent operation in harsh environments.
LED Visual Power Indicator light.
Long trouble free life from solid state power supply module, transformer and dielectric cell.
Low Frequency, will comply with the most stringent government radio frequency standards.
No overheating of dielectric cell and power components.
Non-leaking corona discharge dielectric reactor cell.
Output range selector six position switch.
Ozone resistant stainless steel fittings and silicone tubing.
Stable ozone concentration levels.
Stainless and Quartz Reactor Cell.
Stainless Steel Enclosure.
UL and CSA recognized components.
Variable Control from 5 to 100 percent.
Wall mountable or table top.
Instruction User Guide Manual.
MADE IN THE USA
Comes complete with diffusion stone bubbler, hose and adjustable oxygen flow regulator from 1/32 to 4 liter/min.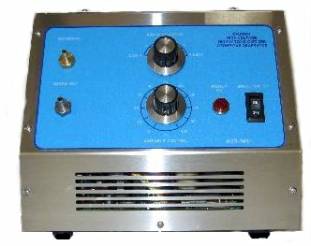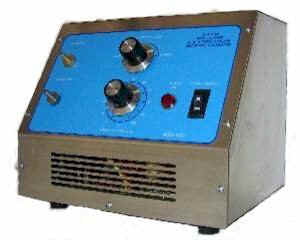 AOS-1MD Ozone Generator Machine Specifications
Electrical: 120 Volts AC.
Amps: 1.3
Frequency: 50/60 Hz.
Power: 60 Watts.
Cooling: Air-cooled 50 cubic feet minute fan motor.
Construction: Stainless Steel Enclosure.
Dielectric: GE 214 Quartz Glass, Stainless Steel.
Feed Gas: Oxygen.
Fuse Size: AGC-2 Amp 250 volt.
Gas Flow: 0-1000cc or 0 to 1 Liter Per Minute.
Percentage: Industrial or Medical Grade.
Size: 8 Height, 10 Width, 8 inches Depth with sloping front control panel.
Warranty: One year limited warranty on parts and labor from date of purchase and 3 years on power module and transformer when purchased from Applied Ozone Systems.
Weight: 9.5 lbs.
AOS-1MD Ozone Output Calibration Chart