Ozone Applications Information
Air Food Water Purification Applications
Business, Home Ozone Applications
Perishable Food Applications
Ozone Fresh Perishable Food Processing
Ozone Benefits Meat Fish Produce
Fresh Fruits Vegetables Ozone Applications
Ozone Book Information
Breath of Life Book Summary Information
Colon Cleansing Detoxification, Health Risks, Colonic Irrigation, Medical Ozone Therapy
Colon Cleanser Oxygen Supplement
Medical Ozone Oxygen References
Human Intestinal Parasites Worms
Ozone Generators, Colon Cleansing Equipment, Pool and Spa Ozone Generators, Air Purifiers, Oxygen Generators
Ozone Machines, Air, Food, Water Purification Systems
Corona Pool Spa Ozone Generators
AOS-1M Medical Ozone Generators
AOS-1MD Medical Ozone Generators
Other Home Business Products
Liquid Vitamin Mineral Dietary Supplement
Liquid Activated Stabilized Oxygen
Tropical Sunrise Dietary Supplement
Vitamin Mineral Natural Health Food
Like the water we drink and the food we eat, the air we breathe has great impacts on our health.
Nature has many ways to produce activated oxygen, the only natural air cleaner. For example, we have all experienced the clean, fresh smell in the air produced by the lightning after thunderstorms. That is ozone or activated oxygen at work. Now you can have your own natural air treatment system at an affordable price.
Mother Nature Uses Her Most Powerful Tool To Clean Your Air
Ozone air purifiers improve the air quality by reducing many indoor pollutants that filters alone are unable to trap. Activated Oxygen breaks down odors and other pollutants at their source. Normal oxygen O2 is converted to O3, which is commonly called ozone or activated oxygen breaks down odors and other contaminates.
Lightning Air Purifiers employ special ozone generator machine with durable stainless steel materials encased in an elegant all natural wood cabinet to achieve this natural process. Special Offer! Lightning Air Purifiers are Ten percent lower than the retail price.
Lightning Ozone Air Purifiers Sanitizer Cleaner Machine
LA-2SP natural ozone air purifier sanitizer cleaner machine with HEPA filter is the most affordable air cleaner treatment system. In the kitchen or bathroom it will oxidize bad odors and mold while killing the germs or bacteria on the counter top at the same time. They can also be used in the car or truck, bedrooms, or used in your office at work.
Lightning Air portable natural fresh ozone air purifier cleaner treatment systems are for normal indoor spaces such as business, home and offices. Compact and portable, the ozone machine can easily be moved to different locations in homes, offices, apartments, motel room, dorm room and recreational vehicles. The Lightning Air LA-2SP is for normal indoor spaces such as homes and offices.

The Lightning Air LA-4SP is for bars, restaurants and heavily used rooms.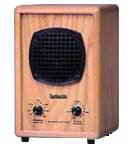 The ozone generator machine or ozone air purifier does not filter the air. Instead, it re-creates the same process that Mother Nature uses to keep the air fresh and clean. It generates the negative ions that nature uses to clear the air of dust and other particles. It also produces activated oxygen to remove odors without the use of fragrances. It helps to break down and oxidize bacteria, fungus, mold, mildew and other pollutants at their source.
Refresh That Old Stale Air That Ruins Your Health
Like the water we drink and the food we eat, the air we breathe has great impacts on our quality of life. Spring Air purifiers can reduce sources of discomfort, which contribute to allergy, asthma, hay fever and other types of airborne irritation.
Utilizing both activated oxygen and negative ions; your Spring Air can significantly reduce: bacteria, viruses and fungus, chemical gases, smoke particles, mold, mildew and pollen, bad cooking and pet smells, tobacco, and paint fumes.
Control the Cleaning: The control for negative ion generation in the air purifier is separate from the activated oxygen control. Negative ions are created around the clock to keep down dust and particulate.
The activated oxygen is normally kept at lower levels in occupied spaces. To remove major odors, the unit is easily adjusted to higher levels. Some use timers to completely deodorize the home or office while away. Unused ozone always reverts back to oxygen in about an hour.
Both models come with full 90 day repair no charge warranty. Limited lifetime warranty to original purchaser is for parts only, customer pays labor and shipping.
Durable ceramic plates in the ozone generator are easy to remove through two slots in the back of the unit for easy cleaning and maintenance. Other features include low energy consumption, fan and variable ozone output control.
Most indoor particles that are airborne tend to be positively charged. Negative ions will negative charge the particles. The positive and negative particles then combine with each other, become heavy and fall to the ground.
Dust and other airborne particles carry irritants or contaminates such as: bacteria, dust, fungus, mold spores, pet dander, pollen, skin flakes, smoke particles and viruses. Most everyone suffers from allergy, asthma, hay fever and other respiratory problems.
Irritants can cause various symptoms of discomfort, respiratory problems and allergic response. Many of these are invisible and are present in smaller quantities. However, consider that the average person takes 20,000 breaths per day and spends 90 percent of his or her time indoors.
Elegant Styling for Home or Office
Compact and portable, the ionizer can easily be moved to different locations. It can be used in homes, offices, apartments, motel rooms, dorm rooms and recreational vehicles.
Classic Models are constructed with the highest quality solid wood cabinets. Choose the color to blend with your decorations.

Cherry-Walnut-Medium Oak
PZ6 Air Purifiers destroy bacteria, odors, smoke, biological agents, viruses, and chemical pollutants in the air and helps eliminate odors without any harmful by-products. It cannot be compared to filters that just attract pollutants and pathogens.
PZ6 Air Purifier Specifications: Size: 6 x 6 x 1½ inches. Weight: less than 2 pounds. Silent, low cost operation (less than 50-watt light bulb). No filters or plates to clean or replace! Minimal maintenance, vacuum or blow dust from fan vent as needed. Electrical 110/120 volts AC. Ozone purity: No nitrogen by-products. Ultra Violet Lamp arc life: 20,000 hours. One year manufacturer warranty.
Place the unit in the desired room or area in an elevated location (top of bookshelf or refrigerator) gives the best results. Plug the power cord into the 110/120 volt AC electrical outlet. Flip the switch to the on position; the soft glowing blue light and quiet fan start up, confirming proper operation. And the crisp, clean scent is the ozone doing its work. The ozone air purifiers can be run continuously if desired. Many users move it from room to room as needed.
LA-31C Model Lightning Industrial Air Cleaner