Ozone Applications Information
Air Food Water Purification Applications
Business, Home Ozone Applications
Perishable Food Applications
Ozone Fresh Perishable Food Processing
Ozone Benefits Meat Fish Produce
Fresh Fruits Vegetables Ozone Applications
Ozone Book Information
Breath of Life Book Summary Information
Colon Cleansing Detoxification, Health Risks, Colonic Irrigation, Medical Ozone Therapy
Colon Cleanser Oxygen Supplement
Medical Ozone Oxygen References
Human Intestinal Parasites Worms
Ozone Generators, Colon Cleansing Equipment, Pool and Spa Ozone Generators, Air Purifiers, Oxygen Generators
Ozone Machines, Air, Food, Water Purification Systems
Corona Pool Spa Ozone Generators
AOS-1M Medical Ozone Generators
AOS-1MD Medical Ozone Generators
Other Home Business Products
Liquid Vitamin Mineral Dietary Supplement
Liquid Activated Stabilized Oxygen
Tropical Sunrise Dietary Supplement
Vitamin Mineral Natural Health Food
During the process of respiration, waste products are exposed to the action of the oxygen of the air and are burned up, thereby producing our bodies heat. Our internal heat is continually being generated through the chemical action of carbon and oxygen.
An inadequate supply of oxygen to tissue its called hypoxia. When the oxygen-carrying capacity of the blood is reduced due to circulation, liver, or heart disorders, it prevents the blood from being adequately oxygenated, results in tissue death. If this condition leads to the complete absence of oxygen (anoxia), the metabolism of cells is disrupted and die in minutes. We can recuperate from temporary hypoxia due to exercise but over time simple hypoxia could lead to other more serious problems.
Applied Ozone Systems is striving to develop and introduce new and revolutionary alternative stabilized oxygen supplement health products used in conjunction with colon cleansing and colonic irrigation or general health maintenance for prevention.
OXY-MEGA is the newest addition to our health products and new dealers are welcome. It is an excellent alternative to other types of supplements for constipation problems. OXY-MEGA colon cleanser dietary oxygen supplement offers its users benefits that are safe and effective to help detoxify.
OXY-MEGA colon cleanser dietary stabilized oxygen supplement with oxygenated magnesium oxides with citric acid to restore digestive problems and intestinal tract health. The timed release ensures that OXY-MEGA colon cleanser oxygen supplement will provide an adequate amount of oxygen, slowly, for better utilization.
The action of the oxygenation formula will act as an alkalizing or neutralizing agent to these foreign invaders in the colon. Oxygenation of the blood will restore pH so the bodies electrolytes can function properly. When the bodies chemistry is balanced, proper tissue and organ function can be restored. All human cells depend on the balanced acid-alkaline or potential of hydrogen pH environment.
OXY-MEGA has some stool softening effects, which eliminates the digestive tract of unwanted fecal debris, parasites, virus and aids in digestion by slowly releasing beneficial nascent oxygen that good aerobic bacteria need to thrive.
OXY-MEGA colon cleanser dietary stabilized oxygen supplement is easy to use, comes in capsules only. Oxy-Mega is highly effective and non-habit forming.
OXY-MEGA Colon Cleanser Oxygen Supplement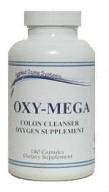 OXY-MEGA stabilized liquid dietary oxygen supplement contains buffers with electrolytes of sodium chlorite, carbonates and bicarbonates in de-ionized water. The nascent oxygen works in the similar manner as white blood cells, by blasting damaged cells with super oxides. This prompts the creation of new white blood cells to help fight diseased cells. 70ml/2.33oz. bottle.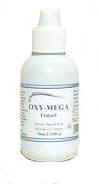 The sufficiency of an active type of oxygen for the blood means better blood, better circulation, better digestion, better elimination of waste and less chance of infection and disease. Stabilized liquid oxygen supplement is one of the greatest blood-building, oxidizing and antiseptic agents for detoxification, disease and parasites.
Virus, fungus, parasites, and unfriendly germs will thrive in an environment that is low in oxygen, high in carbon dioxide and high in acid or low pH factor. Any one of these can cause mental and physical stress on our bodies, which in turn interferes with homeostasis.
OXY-MEGA Stabilized Liquid Oxygen Supplement
OXY-MEGA colon cleansing dietary oxygen supplement is recommended with all colon cleansing, detoxification and colonic irrigation therapy equipment on the Medical Ozone Generator Page.
OXY-MEGA Activated Stabilized Liquid Oxygen Supplement for therapeutic use with pH balanced formula contains distilled water, sodium chloride from sea salt, chromium, iodine and other trace amounts of carbon, calcium, copper, lithium, iron, magnesium, potassium, phosphorus, selenium, sulfur, silicon, cobalt and zinc. One 60 ml/2 oz. bottle contains 15,000mg of o4 or 250mg/ml. Suggested Use: 15 drops in 8oz of water 3-4 times daily.
OXY-MEGA Activated Stabilized Liquid Oxygen
Antioxidants should be taken in conjunction with any oxygen supplementation. If you are deficient in antioxidants, even oxygen from the air we breathe can accelerate aging and cellular damage. Nascent oxygen is even more aggressive than atmospheric oxygen. Therefore, its important when anyone takes an oxygen supplement they should also take antioxidants like those found in Tropical Sunrise, an exotic fruit plant enzyme and essential amino acid complex liquid dietary supplement. This will ensure that the cells will be properly protected.
Tropical Sunrise Dietary Supplement

Oxy-Mega Super Colon Cleanser Oxygen Supplement
Statements have not been evaluated by the Food and Drug Administration. The health products are not intended to diagnose, treat, cure or prevent disease.